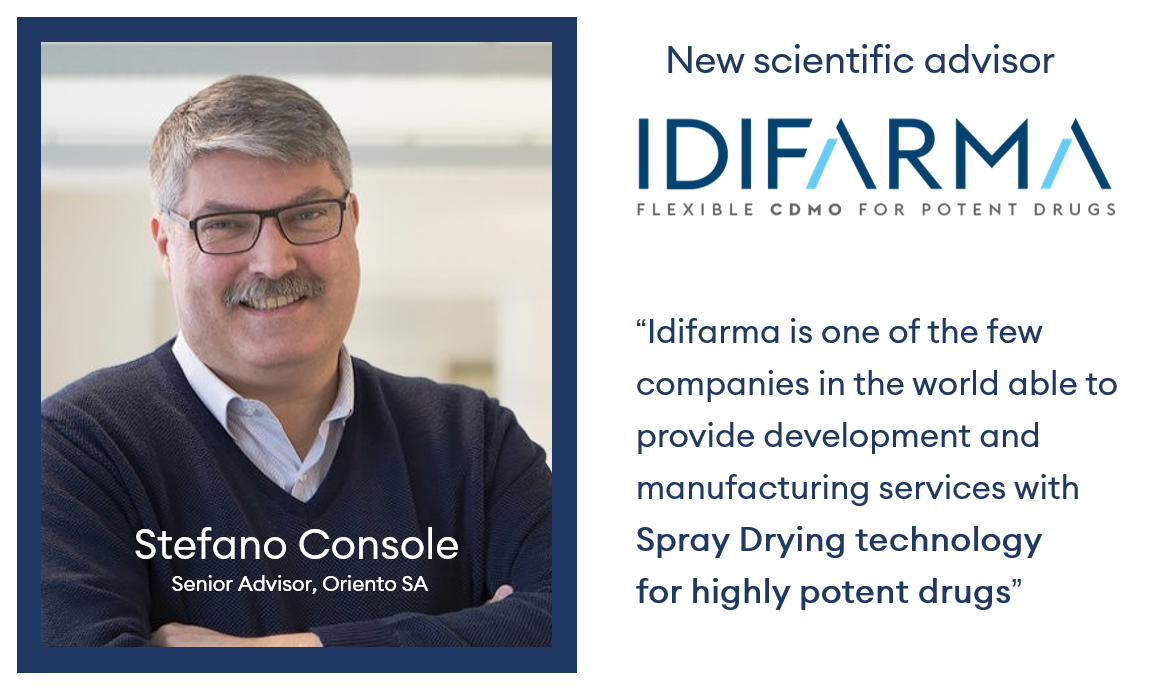 Idifarma partners with industry expert to strengthen spray drying expertise
Stefano Console will be Idifarma's scientific advisor focusing upon spray drying technology and particle engineering technologies
Idifarma has announced a partnership with Stefano Console from Swiss life sciences consultancy Oriento SA.
Bringing with him the benefit of over 25 years of experience in the pharmaceutical and fine chemical industry, Console will be Idifarma's scientific advisor focusing upon spray drying technology and particle engineering.
Head of Site of Idifarma Alfredo Gómez said: "Stefano is a very experienced professional with an extensive technical background combined with a great business acumen that will benefit Idifarma and our clients enormously".
"This partnership will bring together Stefano's knowledge and experience in particle engineering, particularly in amorphous solid dispersions and dry powders for inhalation, and Idifarma's highly skilled staff and specialised capabilities to better serve and grow our client base and strengthen our position as one of the leading providers of spray drying services for niche and potent drugs".
Console joins Idifarma as scientific advisor, with his experience gathered from CDMOs in Italy and Switzerland and strategic roles managing many successful projects for pharma partners across the EU, USA and Japan.
Commenting on the partnership Console said: "Spray drying is one of the top differentiating capabilities of Idifarma. It is also one of the few companies in the world able to provide development and manufacturing services with this technology for highly potent drugs, while also integrating the finished product manufacturing in oral solid forms and serialised packs".
"Idifarma is already well respected in the industry with an impressive track record of operating with niche, innovative and highly potent oral drugs. I'm looking forward to working with the team and delivering the best solutions for clients".
Idifarma is a CDMO for niche and highly potent drugs, focusing in oral solids for oncology, and with special capabilities such as spray-drying at its 40,000 sq. ft facilities.